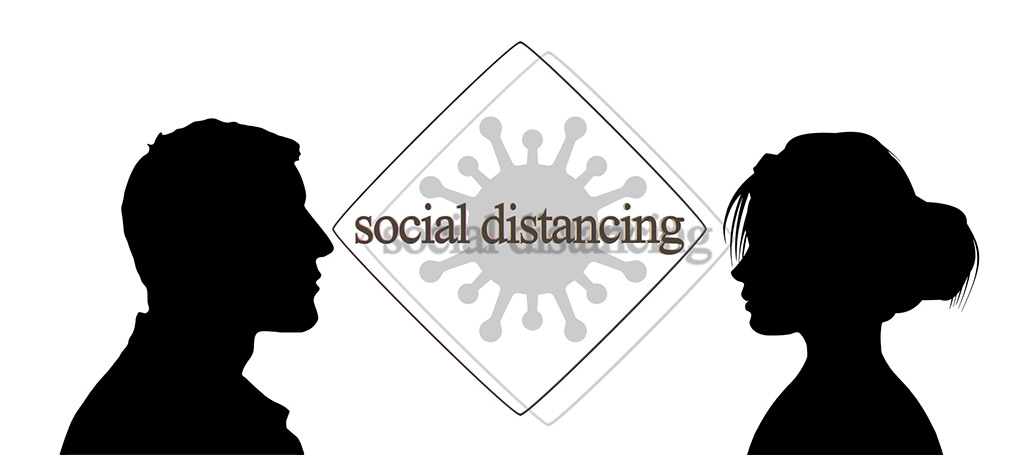 How to Cope With Physical Distancing
Physical distancing is the new normal, but it is hard to adhere to sometimes. With this being so prominent in our lives now, here is a guide with how to cope.
As of August 2020, the COVID-19 pandemic has caused more than 100,000 cases throughout Canada and more than 9,000 deaths. We know that COVID spreads easily between people through the droplets that come from speaking, coughing, and sneezing.
Scientists, researchers, and many government leaders agree the best way beat the pandemic is to practice physical distancing. Physical distancing means limiting time spent with others as well as limiting your proximity around others. By a general rule of thumb, your chances of contracting the novel coronavirus are lower if you're five to six feet away from others.
While physical distancing is important, it has also altered our normal ways of life. Activities like eating together and hosting parties at each other's homes raise our chances of catching the virus. Through so much change and less interaction with people, physical distancing can cause higher rates of depression, anxiety, and loneliness.
Learn the best ways to cope with physical distancing while maintaining your physical and mental health.
Safely Meet With Others
In understanding how to maintain physical distance, keep in mind that you don't have to undergo a full quarantine. While it's best to limit your interaction with people outside your home, that doesn't mean you have to completely shut yourself in.
Physical distancing in public is a great way to gain interaction without risking your health. While your outside, droplets tend to disperse quickly in the area. On the other hand, while your indoors with others the droplets tend to hover around, and it's more likely to inhale them and catch the virus.
Even if you're outside, make sure you're still committed to 2 meters apart, or 6 feet apart physical distancing.
Find New Activities You Can Do at Home
Coping with physical distancing means adapting to new ways of living. Where you used to meet with others for sports, networking groups, or other activities, it's important to fill those gaps.
Since you're spending more time at home, find new activities you can do indoors or outside without a large group. You might even consider taking on something you haven't been able to do in a long time.
Trying new activities will not only help you feel occupied, but it can also give you a sense of accomplishment. Feeling proud of yourself is a great way to combat the negative feelings that come with social isolation.
Connect With Others Regularly
Even though we can't see each other as much as we used to, that doesn't mean we can't communicate. Remember that we're lucky to live in a world where we have many different methods of communication at our fingertips.
Try to think of at least one or two people who you know you can call when you're feeling lonely. If you aren't used to calls, you can text or use video chat to feel more connected.
Not being able to spend time with the people around you means you'll have more time to connect with friends and family who may live far away.
Consider everyone who you've been putting off calling and schedule some time to chat with them. You'll be surprised at how fulfilling it is and how much free time you have now to make those calls.
Stick With a Routine
While maintaining physical distancing, many of us are also dealing with unemployment or a quick transition to working from home. The change in your routine can feel disorienting and easily lead to depression or anxiety.
While you're physically distancing, make sure you create a new at-home routine that you can stick with and that makes you feel good. Even if you might not need to get ready for a commute, you can still set aside time to get ready in the morning and make your day feel more structured.
Routines will help you feel more in control of your situation, and they help provide stability. The more stable you feel, the easier it will be to cope with change.
Find a Telehealth Therapist
Never hesitate to reach out to a psychologist or therapist if you're not sure what to do. At Yes MD, we offer mental telehealth services to help with anxiety, depression, mood changes, and more.
Speaking with a professional isn't just for severe cases. Nearly anyone can benefit from mental health support, and telehealth is a great option to maintain physical distancing.
By speaking with a professional, they can help you develop coping mechanisms to de-stress when you're feeling overwhelmed. 
Take a News Break
Not only are we dealing with physical distancing, but we're also dealing with other effects of the COVID-19 pandemic. Illness, death, and unemployment are constantly circulating in the news cycle. Staying informed is important, but consuming negative news all the time can lead to more negative feelings.
Try to take consistent news breaks so you don't feel too overwhelmed. You can set a limit for yourself each day or schedule the breaks. For example, you can set a timer on your phone that goes off every time you've spent an hour or more on different news apps.
Instead of consuming news all day, fill your time with other activities. When you're feeling overwhelmed, focus on the basics. Make sure you're making time to eat healthily and work out, and save your news consumption for a smaller portion of the day.
Staying Strong Through Physical Distancing
To stay strong through physical distancing, keep in mind that nearly everyone else is feeling the same way as you. It's important to remember that you're not alone. Instead of looking forward to the future where we can return to normal, focus on what you can do in the here and now.
Contact us today for help finding a telehealth therapist. We can help you find someone that fits your needs and helps you maintain some of the coping mechanisms we've listed above.