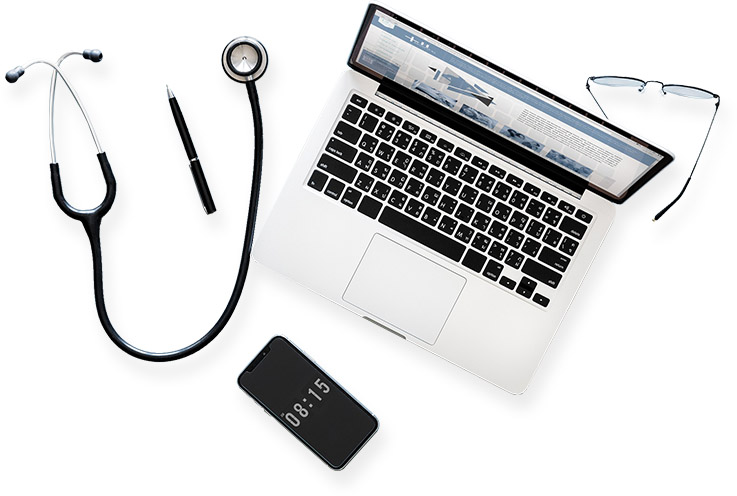 Using Telemedicine to Reduce the Spread of Coronavirus
When it comes to fighting the Coronavirus, one method that has a focus is telemedicine. Here is how it is being used to reduce the spread of Coronavirus.
The rise of telehealth and telemedicine has been swift and necessary given the current COVID-19 pandemic. More and more people are unwilling to leave their homes, especially when that means entering a place full of people who may be visiting the doctor because they're unwell.
Worse still, some people are unable to access their normal medical care. This can mean that they miss out on prescriptions, can't ease their anxieties over small-scale health issues, and perhaps won't recognize an emergency.
How can doctors, clinics, and hospitals suit the needs of all of their patients while also stopping the spread of coronavirus?
Telemedicine might be the best answer. Keep reading to learn all about the benefits of telemedicine when it comes to slowing COVID-19 down.
What Is Telemedicine?
Telemedicine is the practice of medicine from a distance.
Patients are able to call or video chat with licensed physicians from the comfort of their own homes. It's an accessible way for people to receive healthcare when they may be unable or unwilling to leave their homes or get reliable transportation.
Telemedicine has been growing as an industry and it's just as reliable (in many fields of medicine) as an in-person consultation or even full visit.
During the coronavirus pandemic, it's more useful than ever. Here are a few ways that telemedicine can stop the spread of infectious diseases.
Worried Patients Can Consult from Afar
Many clinics and hospitals have been overwhelmed with patients since the pandemic began. These patients aren't only COVID-19 patients, they're also people with normal maladies that would be in the hospital regardless.
Because there's no room, it's no longer possible to accept patients who are unsure of whether or not they have a legitimate problem that requires immediate care. Some patients may be better off seeking a prescription and going on their way without actually stepping foot into a healthcare facility.
But how can a worried patient make this distinction?
Telemedicine consultations are easy and they can put the minds of patients at ease. Sometimes the results might require an in-person doctor visit but more often than not a patient is able to get the prescription they need and move forward.
What About Coronavirus Specifically?
Sometimes patients feel sick but they still want to come in to see the doctor. Unfortunately, with how quickly this virus spreads, only very sick COVID-19 patients are able to see the doctor. They may also be asked to get a COVID test before coming in.
This helps to keep doctors and other medical staff protected and allows less serious COVID cases to be treated at home with medication and rest unless it's clear that further help is necessary.
In a telemedicine consultation, a doctor may ask about symptoms of coronavirus. If they match up with COVID-19, the doctor may request that the patient get a COVID-19 test and suggest some at-home healing methods.
If it seems serious, the doctor may instead suggest coming to the ER.
With the large variety in cases, it's hard to give advice to everyone who might have COVID-19 but might also have allergies or the common cold. Telemedicine can help doctors decide what the correct course of action is before exposing their clinics.
People Can Access Important Mental Healthcare
Many mental health facilities have closed or moved to a "work from home" system. This means that people who require mental healthcare are no longer able to access their doctors and medications.
Many of these people can continue to see their doctors during this time with their own telehealth systems, but others are seeing new problems when they've never had mental health trouble before.
Loneliness is a huge issue when it comes to the pandemic and the required social distancing. Not everyone is handling isolation well, and this stirs up new mental health issues as people try to manage.
If they're unable to manage, they may be more inclined to engage in unsafe behaviors like going to bars with large groups of friends or having parties.
While a therapist won't cure your loneliness, they can help you manage those feelings and determine whether or not you should seek more significant help.
Telemedicine Clears Room In Clinics and Hospitals
Some people overuse the clinics and emergency rooms that are available to them. Sometimes people go in for simple sprains or even nose bleeds. These are things that either need to be treated at home or are better suited for a scheduled doctor's appointment.
With telemedicine, you can talk to your doctor about potential ways to handle your problem before you go into the clinic. No one needs to be going into the hospital emergency room because they have an earache.
Like we mentioned, hospitals are filling up. Some things are necessary, like serious COVID cases and long-term illnesses. Others can wait, or should be assessed first so that the patient doesn't put themselves or others at risk.
For example, if a woman is worried about pregnancy, she can first consult with a telemedicine provider to determine whether her anxieties are likely to be reasonable or if she's better off staying home and protecting herself.
If it turns out that the anxiety could be valid, she can go see a specialist instead of going to the ER.
This is not an ideal situation, but when it comes to stopping the spread, we need to ensure that our hospitals remain safe for patients and doctors.
Brick and mortar medical centers are focused on providing essential services, so having telemedicine support to assess the situation from the patient's home can help to avoid unnecessary visits.
Telemedicine Works Toward Stopping the Spread of Coronavirus
As the pandemic continues, stopping the spread of coronavirus is essential so that one day, hopefully soon, we're able to get back to our normal lives.
A safe and healthy world is what we have to hope for, and utilizing telemedicine services is one way to help us get there.
To learn more about the telemedicine services that we have to offer, visit our site and see if we're right for you.